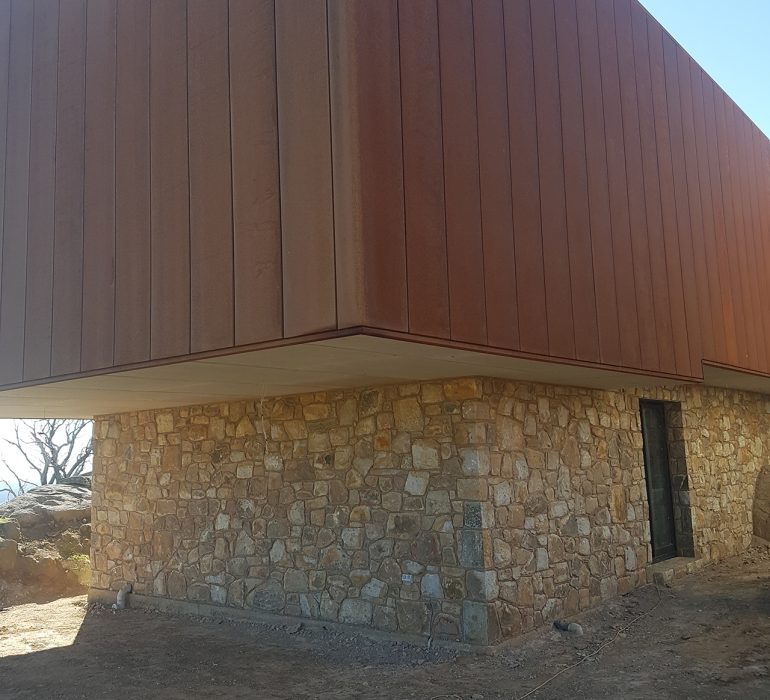 COR-TEN DIVERSACLAD
In Australia we are building some of the largest homes in the world, it seems Australians can't get enough space. Well welcome to Eddie and Dots "dream house" in Euroa, Victoria which is massive. This spectacular new home in country Victoria was a labor of love taking five years to build.
Taking in views across to the Strathbogie ranges, sweeping across the rolling hills, uninterrupted skyline this dream house is encapsulated in Corten steel supplied by Designer Panel Systems. This stunning location highlights the Australian outback with huge immovable boulders and dusty paddocks and roads works harmoniously with the iridescent reds, browns of the evolving Cor-ten steel façade.
Built on a "H shaped slab" with 2 vast wings (east and west) look over a fabulous infinity edge pool pointed directly out to Ned Kelly country. Lined again with beautiful 300mm cover Diversaclad in Cor-ten steel the backdrop is epic.
Credit must go to architect and designer Robert Harwood https://www.my-architect.com.au  this site is truly remarkable. The grand entrance stands some 7.0mtrs high, it feels like you are entering a monument building or a museum. The outer skin is wrapped in VM Zinc Diversaclad and junctions back to the Cor-ten walls, internally the walls are lined with magnificent blonde timber,  remarkably with such texture differences between the stone lower walls to the Zinc and Cor-ten upper walls and the blonde timbers all surface finishes working so well with each other transitioning without fault.
When you just have a look at this house from different reality – you cannot hold your breath!
"For me, looking at the entrance and the grand stairs is spectacular – along with the incredible view out the front door," Eddie says.
Despite having finished the home, Eddie and Dot reveal they have much more to do. "We still have so much landscaping to finish," Dot says. "We will eventually have a dramatic driveway using the Corten at the entrance."
This home was featured in a first episode of the 2019 season of Grand Designs Australia, view more at https://www.lifestyle.com.au/property/grand-designs-australia-euroa-episode-1-season-8.aspx
Diversaclad in Cor-ten steel has become increasingly popular in today's architecture. When used correctly it blends and complements its natural surroundings, shades of red, brown and orange become more texturally interesting as rain and sun exposure adds runs and lines, with deeper or lighter tones to the rust effect.
Weathering steel, best-known under the trademark COR-TEN steel or Xlerplate®, exhibits superior corrosion resistance over regular carbon steel as a result of the development of a protective oxide film on the surface that provides a unique rustic appearance. The layer protecting the surface develops and regenerates continuously when subjected to the influence of the weather.  Thus, Corten needs not to be treated in any way prior to installation for longevity.
In contemporary architecture Corten steel can lend itself to all kinds of designs, perfect for both urban and rural contexts. Its industrial appearance means Corten will continue to be found in increasing numbers who want distinctive features and facades on their projects.
If you would like to know more, please "Get in touch" and send us an email.